Early College Cybersecurity Information Session Overview [Sept. 2022]
September 8, 2022 •The Cyber Montana Team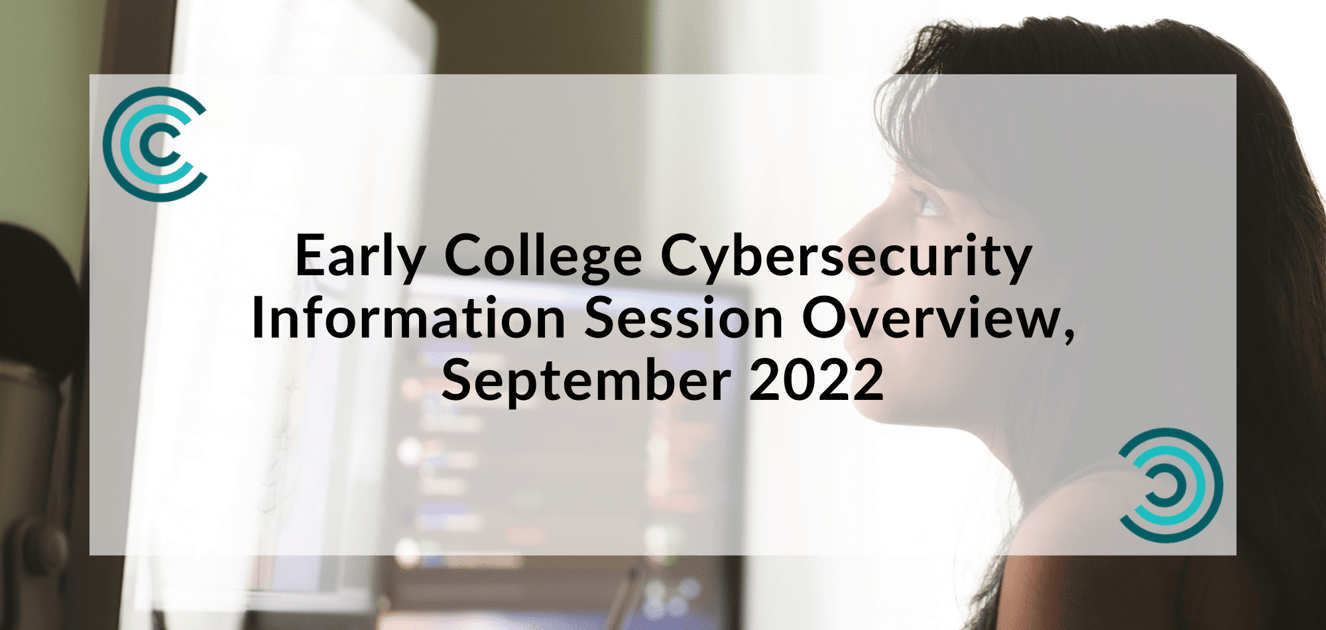 No age is too young to start learning about cybersecurity. As an education hub for the state, CyberMontana provides training for a broad range of recipients. We are excited to walk with High School students as they start to develop what their passions are and what paths those passions will lead. CyberMontana offers two opportunities for High School students to grow in their cybersecurity paths.
Currently, there are over 1,100 job openings annually in the state of Montana. There are about 598,000 cyber jobs available annually nationwide. Almost 90% of data breaches are caused by human error*; the human factor is the weakest link. Security-aware employees are one of the primary defenses in the business world.
Join the discussion about CyberMontana's Early College Programs:
CyberMontana is holding a virtual event to answer questions regarding our High School options. This event will happen twice. Please join us on either September 14th from 6:30 p.m. – 7 p.m. or on September 21st from 7:00 p.m. – 7:45 p.m. During this time, you will learn about the program, and employment opportunities upon graduation, and hear from the instructors.
Introduction to Cybersecurity (ITS 191)
Introduction to Cybersecurity provides an online early college option for high school students to explore cybersecurity topics and opportunities for careers. Students will develop a foundational understanding of Cybersecurity and its relation to information and network security. Upon completion of the course, students will earn 3 University of Montana credits. This course introduces students to cybercrime, security principles, technologies, and procedures to defend their networks.
Cybersecurity Certificate of Technical Studies (CTS)
The Cybersecurity Certificate of Technical Studies is a set of 4 courses (12 credits) that provides students with an entry-level credential that can lead to the Associate of Applied Science degree in Information Technology. This certificate program can be completed in 1-2 years for High School Students. Students would enroll in ITS 215E Fall 2022, starting in October.
Upon completion of the courses, students receive special recognition indicating completion of an NSA-approved Cybersecurity Center of Academic Excellence program of study. Students will have the option of testing for the CompTIA Network+ and Security+ industry-recognized credentials, which are recognized by the U.S. Department of Defense for certain cybersecurity positions.
Skills gained include:
Networking Concepts
IT system Components
System Administration
Fundamental security design principles
Cyber-threats and cyber defense
Cryptography
Policy, legal, ethics, and compliance
Why take these Cybersecurity courses in High School?
Cybersecurity is a need in society that is growing at a rapid rate. Whether used for personal or professional purposes, everyone needs to learn skills needed to keep safe in a technological world. Consider how many devices you use for school, as well as at home. Consider as well how many hands some of those devices have used. Cybersecurity is key to keeping information safe.
High school is a time to start looking at and thinking about the future. Many businesses require their employees to align their skills and certifications with the U.S. Department of Defense 8570 matrix for Information Assurance (Cybersecurity) positions involving:
Technical activities such as securing networks and computers
Management activities such as ensuring cyber compliance
Information Assurance Architecture and Engineering
Cyber Security Provider
Preparing yourself to be cyber aware is preparing yourself to be job ready.
What is the cost of CyberMontana's Early College Cybersecurity Courses?
Both the ITS 191 course and the Cybersecurity Certificate of Technical Studies are part of the 1-2-Free program. High school students may take up to two university courses (up to 6 credits) tuition free. After the two courses are complete, the cost is $57/credit (the academic year 2022-2023), which is half the standard Missoula college per credit rate.
There is a further scholarship available for students who (themselves or their households:
receive free or reduced lunch
participate in Montana Healthy Kids and or medicaid
receive SNAP or WIC benefits
participate in the Head Start Program
are McKinney-Vento participants
receive TANF or SSI benefits
receive a Section 8 Housing Voucher
If you or your family receive any of these services, you are eligible to apply for a scholarship.
What happens after completing the program?
Upon completion of the program, Students will have the option of testing for the CompTIA Network+ and Security+ industry-recognized credentials. Successful completion of the program sets up students to be prepared for entry-level cybersecurity positions. Students are also able to continue their education by completing an Associate of Applied Science in Information Technology. The 12 credits acquired in the CTS program may be applied to the AAS at the University of Montana, offered through Missoula College.
What are my next steps?
Join us for either an information session, on September 14th from 6:30 p.m. – 7 p.m. or on September 21st from 7:00 p.m. – 7:45 p.m. Hear from the professors, meet the cybersecurity staff, and of course, ask your questions! Let's get started on this cybersecurity adventure together.