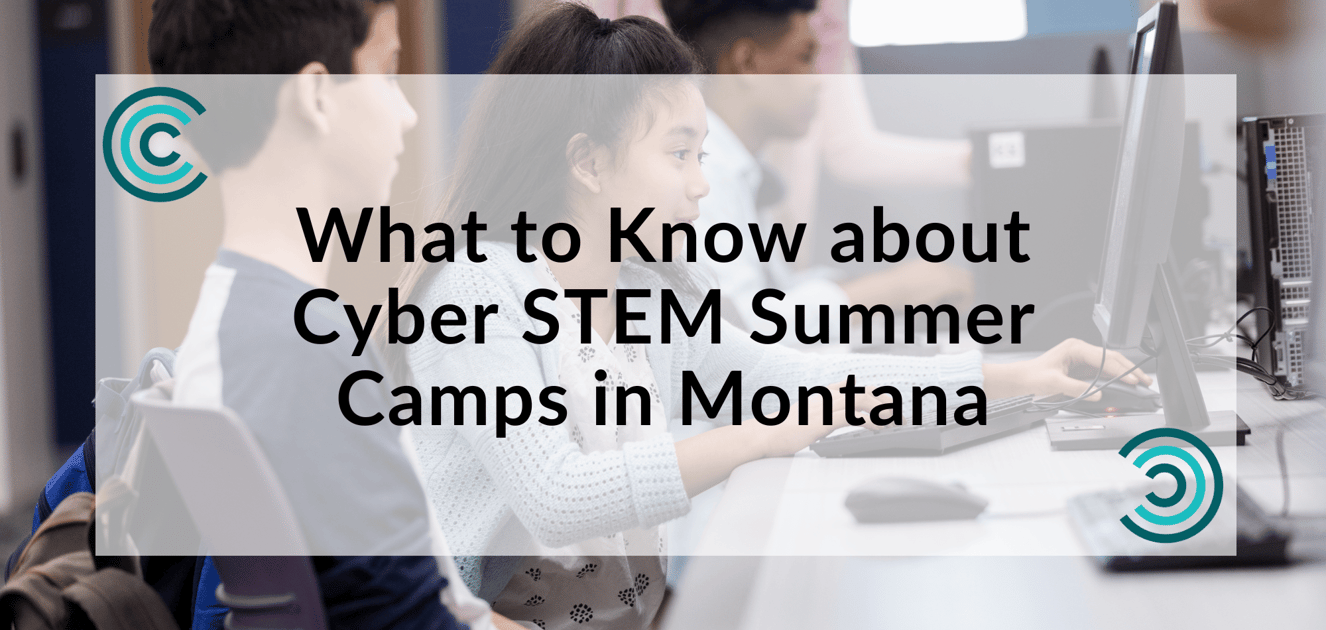 CyberMontana is excited to sponsor 2023 Cyber STEM Summer Camps throughout Montana. A total of eight camps will be held throughout seven cities across the state. Registration is currently open for all Cyber STEM Summer camps. We believe no age is too young to start learning more about cybersecurity!
What are Cyber STEM Camps?
Cyber STEM Camps use hands-on activities to investigate topics ranging from programming in Scratch or Python, to electronics and networking, to basic command-line operation of computers. All camps incorporate aspects of cybersecurity throughout the various topics.
We are becoming more reliant on cyber-based technology throughout all aspects of our daily and work lives. Cyber STEM camps offer an opportunity for Middle School students to be inspired to embrace interest, passion, and talent to build skills that may help our country's national and economic security.
Where are STEM Summer Camps located?
STEM Summer Camps are located throughout Montana. Camps are open to Middle School Students (ages 10 - 14 years old.) The 2023 STEM Summer Camps include:
Why should my child attend a Cyber STEM Summer Camp?
Cyber STEM Summer Camps provide an opportunity for Middle School students to explore aspects of IT along with cybersecurity. There is a shortfall of skilled cybersecurity professionals in the nation. Cybersecurity Summer Camps aim to ensure interested and inspired young students embrace this passion. As we become more reliant on cyber-based technology in every aspect of our daily lives, it is critical we nurture excitement and drive in relation to cybersecurity in our youth.
Young girls' confidence drops by 30% between the ages of 8 and 14 years old*. Something about the percentage of fading interest in females. In high school, 60% of girls who were interested in STEM as freshman are no longer interested by graduation. For all students, it is important to provide access to STEM, and IT/Cybersecurity opportunities. For young girls, it is imperative to provide these opportunities and role models within the field. Mentors who show excitement in regard to their interests, who help provide scaffolding to continue down a path that explores IT and cybersecurity.
What does a day or a week at a STEM summer camp look like?
Cyber STEM camps provide a minimum of 20 contact hours delivered over 1 or 2 weeks during the summer of 2023. Each institution works to provide a low counselor-per-student ratio. Each city is able to design its own curriculum. Some camps share a cybersecurity/basic electronics curriculum developed by Missoula College for Summer 2021 and 2022. Others may opt to teach a CyberPatriot camp or to teach their own custom curriculum. Each camp's registration page shares information on their schedule and curriculum. Each institution is able to provide any further details regarding individual camp schedules. Food and snacks are provided for each camp.
How to register your children for one of Montana's Cyber STEM Summer Camps
Registering for a STEM summer camp in any of the 7 cities providing offerings is easy! Registration can be found on the CyberMontana website. Choose the city where you would like to register a student and complete the online registration form. (Missoula College is currently full but accepting waitlist applications as family plans tend to change as summer approaches.)
What is the history of Cyber STEM Camps in Montana?
The 2021 legislature provided funding to Missoula College's Center of Academic Excellence (CAE) for Cyber Defense to develop the Montana Cyber Hub for workforce education.
STEM summer camps began in Summer 2021. During the summer of 2022, CyberMontana funded STEM day camps in 7 different cities throughout Montana. These day camps are aimed at increasing middle school student interest in cybersecurity and other aspects of IT such as programming and networking. Camps will use local faculty and mentors, typically older students, along with additional support to provide hands-on experience with cybersecurity and other STEM topics.
Training sessions are held for interested faculty in preparation for these summer camps. Returning faculty share their experiences allowing for new skills to be learned and passed on to the future workforce, helping each camp to be a success.
Join the Cyber STEM Summer Camp fun today
These camps provide a fun and welcoming learning opportunity for your students. These camps also provide a great venue to explore the fields of IT and Cybersecurity. We are excited to work with our campers this summer!
*Katty Kay & Claire Shipman, The Confidence Code: The Science and Art of Self-Assurance – What Women Should Know.
** https://everfi.com/infographic/k-12/is-stem-interest-fading-with-students/