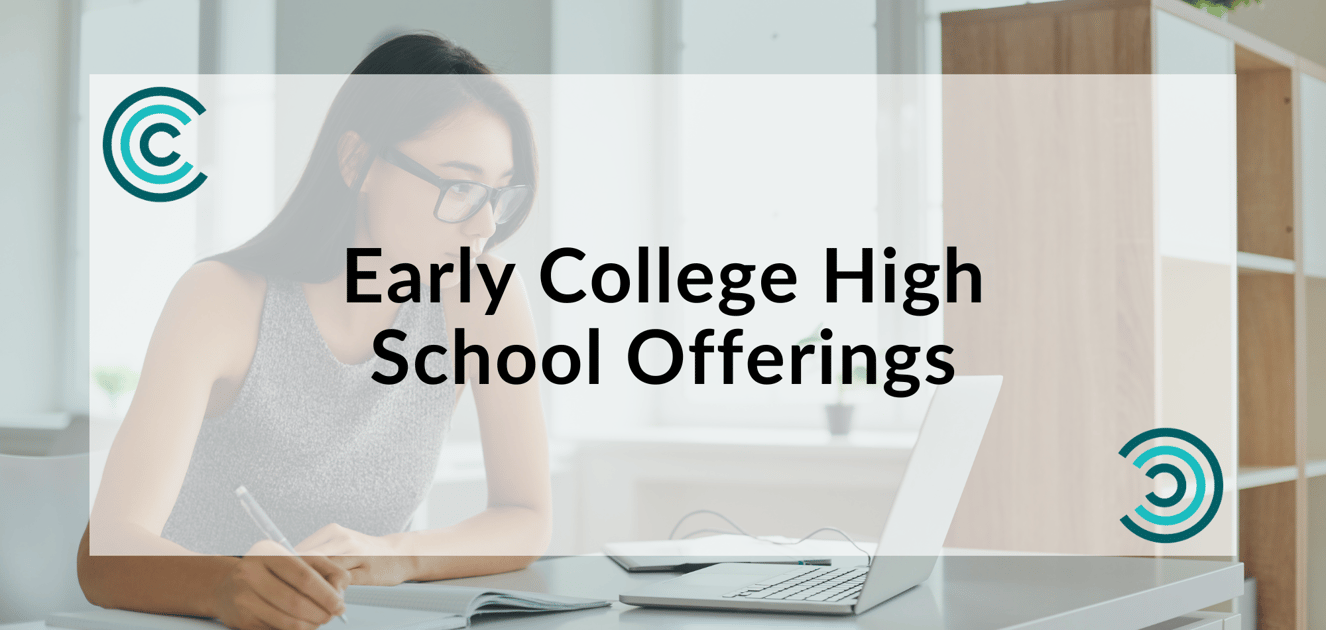 We are pleased and excited to offer our online, asynchronous opportunities for high school students to earn college credit in cybersecurity. Our Introduction to Cybersecurity provides a remote, early college experience for high school students to explore cybersecurity topics and career opportunities. Our Cybersecurity Certificate of Technical Studies Program is a set of four courses that provides students with an entry-level credential that can lead to the Associate of Applied Science degree in Information Technology. Upon completion of the program, students will receive special recognition indicating completion of an NSA-Approved Cybersecurity Center of Academic Excellence program of study. Students will also have the option of testing for the CompTIA Security+, a recognized DoD certificate, upon completion of ITS 222.
What is ITS 130, Introduction to Cybersecurity?
ITS 130 is an entry-level course offered to high school junior and senior students. Sophomore students are eligible with the recommendation of a school counselor. This course is 3 credits and develops a foundational understanding of cybersecurity and how it relates to information and network security. Minimal computer experience is required for this course. There is no textbook requirement. Topics covered include:
- Privacy
- Computer Ethics
- Networking
- Cyber Attacks
- Cyber Defense
- Career Options in Cybersecurity
What is the Cybersecurity Certificate of Technical Studies (CTS) Program?
Our Cybersecurity Certificate of Technical Studies (CTS) program includes 4 courses (12 credits) where students earn an entry-level credential that will stack to our AAS in Information Technology. Open to high school juniors and seniors. Students who complete the program are prepared to earn the CompTIA Network+ and CompTIA Security+ industry-recognized credentials, which are recognized by the U.S. Department of Defense for certain cybersecurity positions. Topics covered include:
- Networking Concepts
- IT systems and components
- System Administration
- Cyber-threats and cyber defense
- Cryptography
- Policy, legal, ethics, and compliance
This is a CAE Designated CTS Program. What does that involve?
It is important to note that our CTS in Cybersecurity follows a rigorous curriculum approved by the National Security Agency (NSA). Missoula College was the first institution in Montana to be designated a Center of Academic Excellence in Cyber Defense by the NSA. This designation ensures that the curriculum aligns with NSA standards, is taught by qualified faculty, and involves opportunities for students to benefit from cybersecurity-related activities in addition to their classroom studies. The CAE designation is noted on the student's official University of Montana transcript.
What is the cost of the Early College offerings?
All 5 of our cybersecurity courses are part of the 1-2-Free program. This program allows high school students to earn college credit while in high school for free. Students may take up to 2 college courses (6 credits).
Once a student has used their 1-2-Free benefits, CyberMontana will pay for additional credits hours leading to the completion of the CTS Program. CyberMontana will also provide two vouchers to be used toward the CompTIA Network+ and the CompTIA Security+ Industry Recognized Credential exams upon completion of the CTS.
CyberMontana was the recipient of Montana's Future at Work grant, offered through the Montana University System and is funded by the Dennis and Phyllis Washington Foundation. This grant was created with the goal of training school students in the CTE field in the community where they live.
When do courses begin?
All courses are available in the Fall 2023 semester. ITS 130 begins on September 18th, 2023. **September 11th is the registration deadline for the ITS 130 course. September 18th is the deadline for course registration.
The Certificate of Technical Studies courses begin August 28th, 2023. **August 21st is the registration deadline for the CTS Program.
How do I register for the ITS 130 Course or the CTS Program?
There are two pathways to register for these early college courses.
If you are a new student, a student who has never taken an early college or dual enrollment course previously, you will need to create and submit an application. The Missoula College - Dual Enrollment webpage provides all the information you need to make this process easier. After reading the information provided, you will find an "apply now" button at the bottom of the page.
If you are a returning student, one who has taken an early college or dual enrollment course previously, you are able to request your course. The information for course selection can be found on the same Dual Enrollment webpage. Scroll down to the "Course Selection" section where you will find directions.
The Dual Enrollment team is available to assist in the case of any hiccups or complications during the registration process. They can be reached at DualEnrollment@UMontana.edu.
Do you work in a high school and would like more information on providing these offerings to your students?
Whether you are an administrator, counselor, IT teacher, or anyone who works with students, you see where students' passions fall. You also see where new interests are budding. We all want to assist students in finding and pursuing opportunities/pathways that align with where they are at. If Early College is new to you and your school, or you have more questions. Please reach out. You can schedule a 30-minute ZOOM informational session by clicking here.
Get started!
Cybersecurity professionals are in high demand statewide and nationwide. The need continues to grow. Cyber technology is advancing rapidly, as are cyber threats. These programs provide the footing to choose a pathway of your choice. That pathway may involve further studies, stacking these 12 credits into the University of Montana's AAS. That pathway may lead gainful employment upon completion of the CTS program and Industry Recognized Credential testing. Either way, employers are looking to develop a cyber workforce with the skills and abilities to meet today's cyber needs. We look forward to your participation in one of these great cyber opportunities!